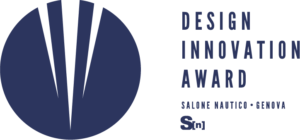 The Design Innovation Award was established in 2020 by Confindustria Nautica (the Italian Marine Industry Association) and the company I Saloni Nautici to celebrate the 61st edition of the Genoa International Boat Show, aimed at supporting and encouraging the highest standards of innovation and excellence on behalf of exhibitors and their most recent products.
The Award Ceremony, reserved for products showcased at the Genoa International Boat Show and introduced over the past year, takes place during the Boat Show itself and aims to promote the highest degree of innovation from the nautical production industry, awarding examples of excellence that stand out for their level of research, innovation, formal and technical quality and sustainability.
The Award is divided into  9 categories: 
Sailing Boats – up to 10m LH;
Sailing Boats – over 10 m LH;
Motorboats – up to 10m LH;
Motorboats – over 10 m LH;
RIBs;
Superyacht – over 24m LH;
Superboats – over 10m LH;
Multihulls;
Boating Equipment and Components
Participants must be exhibitors at the 61st Genoa International Boat Show with a product that is both new and original.
Three Special Awards will also be assigned by the Jury: the Awards for Outstanding Innovation, Career and Talent.
All the applications may be sent no later than August 31st.
Contacts:
+39 345.99.33.789
dia@isaloninautici.com 
Discover all the previous edition winners here